Who We Are?
The Yellow Dwelling's humble journey began in early 2017 with a search for the finest quality home furnishings that were unique, tasteful yet affordable. Over the past few years, it has grown not only as a business but has craved a niche for itself in bringing the best of cotton and natural fibre home furnishings at reasonable prices. Today we ship across the country as well as internationally via our website. We also have five retail stores in Kammanahalli, HSR Layout in Bangalore, Hyderabad, Gurgaon and Pune. The dream still continues, as the brand strives to bring its customers what it promises in contemporary products which are tastefully designed, fresh and clean in its patterns, cheerful in its colours and unique in its textures and finishes. The Yellow Dwelling promises to help you turn your house into a home and create that happy and cheerful space while following sustainable, eco-friendly and ethical manufacturing practices.
Our Journey
Our brand started as an experiment in January 2017 wherein a handful of products were showcased to friends and family. The unconditional and truly overwhelming encouragement and feedback we received played a big part in boosting our confidence and making The Yellow Dwelling into the brand it is today. A snapshot of our journey so far:
From a Facebook page in 2017 to a website and opening of a small warehouse in 2018. 
Conversion of this warehouse into our first retail store in Hennur Road in Oct 2018 
Followed by the second retail store in HSR in Oct 2019.
June 2020 we opened our own 3500 sq. ft centralised warehouse which handles all our online orders and as well as processes our customized curtains.
In August 2021 we opened our first out-station retail store in Gachibowli, Hyderabad.
In July 2022, we opened our fourth retail store in South Point Mall, Gurgaon
In October 2022, we opened our fifth retail store in JM Road, Pune.
Our Belief
Our brand is a reflection of us, we are ardent advocates of following sustainable practice. We believe sustainability is the future and is no longer going to be an option, but a necessity. While building our brand we knew that it was crucial for us to produce and package our products in a sustainable manner. 100% of our products are locally made and with all natural fibers. Extra care is taken to ensure that our beliefs are adhered to; responsible sourcing, sustainable and fair trade practices throughout our manufacturing processes. Previously, the term sustainability has been synonymous with luxury products. We strive to break that myth and create sustainable products accessible to all.
Our Products
All our products are made from a 100% natural material such as cotton (BCI certified), jute, river grass and water reed grass. The colours we use for printing also meet the highest safety standards (OEKO TEX standard 100). Our mission is to ensure we provide our customers with quality and eco-friendly furnishings that help turn their houses in homes. While ensuring the products are aesthetically pleasing it's very important for us to guarantee functional products that are also easy to maintain. We sell a wide range of products such as curtains which can be customized to your needs, throw cushions, dining (table cloths, runners, placemats and napkins) , bedding (fitted or flat sheets, throws and quilts) and home decor options like woven baskets, terracotta and banana fibre lighting.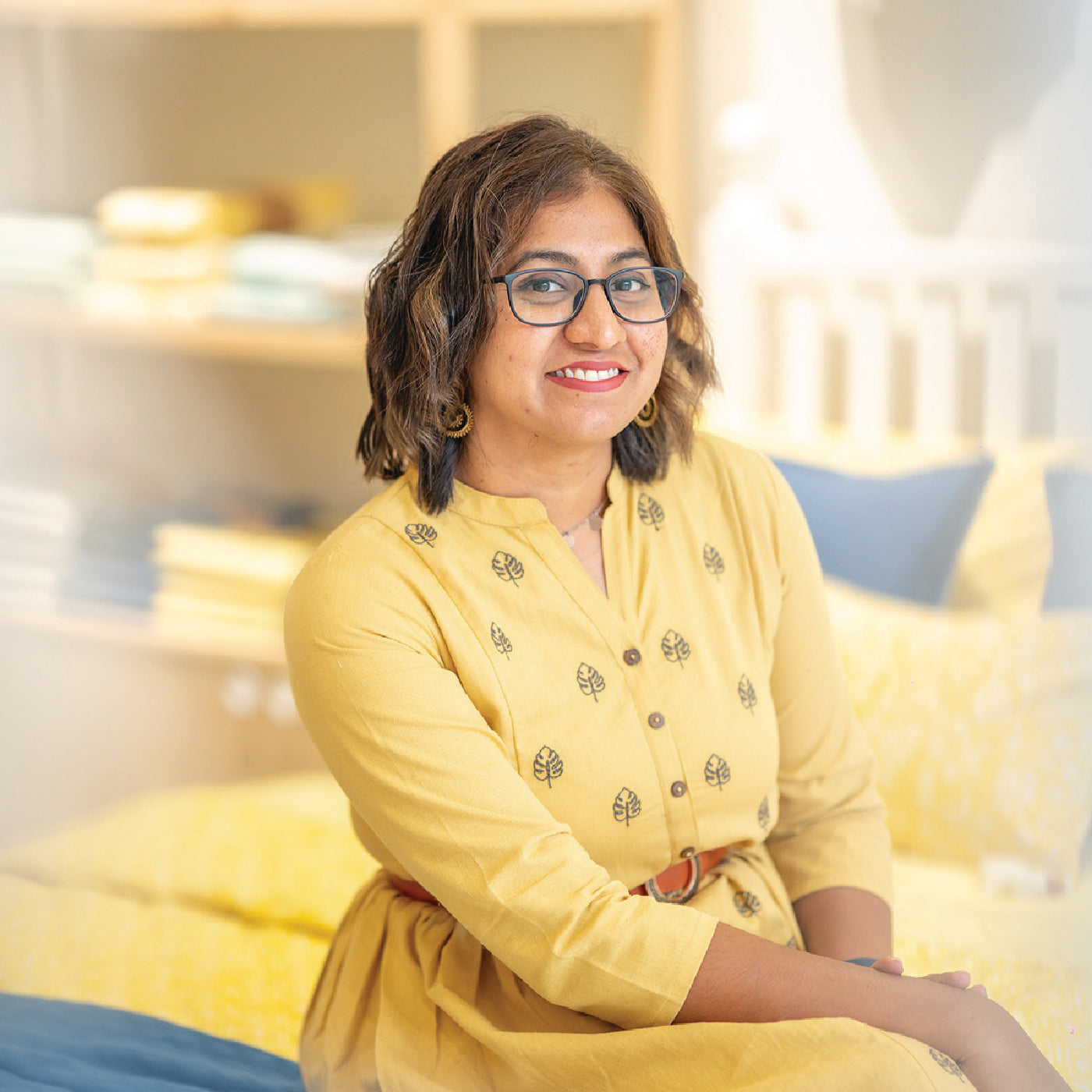 The creative spirit that The Yellow Dwelling embodies is through Abhinayah's vision and drive. A true believer in all things beautiful, simple and rustic; furthermore an ardent advocate of all things sustainable and eco-friendly, The Yellow Dwelling is a true reflection of this founder. A management graduate by education, with over 12 years of corporate experience in finance and strategy this hard working individual, driven by passion; fondly today strategizes and looks beyond the horizon for the brand. A storyteller at heart, she handles Branding & Marketing and Designing of products for The Yellow Dwelling.
During her down time you will find Abhinayah dabbling with DIYs for her home or painting with her son or getting her hands messing in the garden. She fondly looks after her many plants – trimming, pruning, foraging vegetables and pottering around the garden are her favourite activities.
Abhinayah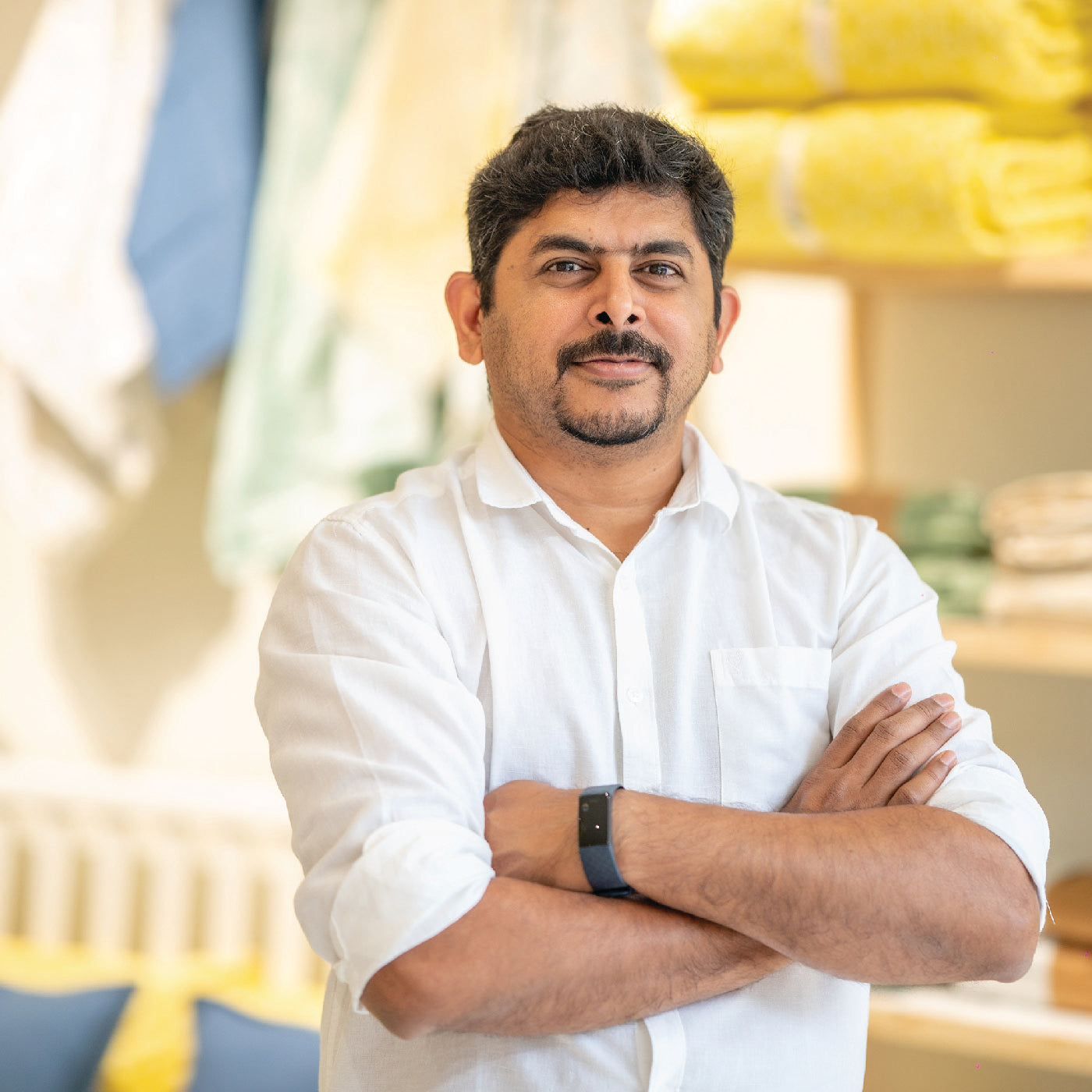 An ardent technology advocate for the latest inventions and trends on his fingertips, Nanda Kumar follows this very passion in manufacturing management, product improvements, website and system implementation to allow the brand to move forward. With over 15 years of corporate experience in Sales & Marketing followed by a 2 year journey as an entrepreneur for a fashion start-up; The Yellow Dwelling was only the next step for this self-driven individual. .
Constantly driven by the urge to experiment and explore Nanda Kumar might be the eccentric within the brand yet every milestone the brand has accomplished has been through the birth of an eccentric idea. An unconventional and adventurous individual, he handles the operations and production in The Yellow Dwelling, propelling the brand to the next level at every given opportunity. During his free time you will often find him pottering about his garden be it tending to his orchids checking the pond or working on making that next big aquarium happen.
Nanda Kumar